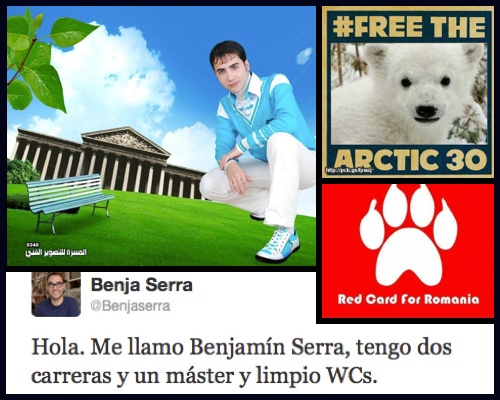 Ahhh… fall is in the air. And so is autumn love, and pastas falling in love online. We recently wrote about the #BoycottBarilla/#BoicottBarilla meme that blew up on Twitter and Facebook in response to homophobic remarks from the chairman of the  Barilla pasta group. Mr. Barilla in turn issued a response four days later. We also put together a write-up of the busy busy few months from The Civic Beat team, from Ben Valentine leading a panel at #ArtsTechSF to An Xiao Mina featured as a "Talk to Watch" on Creative Mornings.
And without further ado…

 [Iraq] The most narcissistic man on Facebook posts beautiful photos of himself. And that's it.  We can't tell if he's joking or not, but it's certainly a commentary on the old trope that social media breeds narcissism!
[USA] The federal government shutdown causes staffers to flood craiglist looking for love and missed connections. Stay tuned for a report this coming week on #pickuplines memes that emerged after the shutdown.

 [USA] 

What's it like to get your photo circulated and mocked all over the web

: "We all know the awful humiliation of a person laughing at you. But that feeling increases tenfold when it seems like 

everyone

 is laughing at you. Scrolling through the comments, the world imploded — and took my heart with it." It reminds us of

another piece in The Awl

: "I woke up one day not long after I started "Roving Typist" to a flurry of emails, Facebook posts, text messages and missed calls. A picture of me typewriting had made it to the front page of Reddit."

[Spain] "My name is Benjamin Serra, I have two bachelors and a masters degrees and I clean toilets" –

this tweet

& FB post made its rounds on the Spanish internet, garnering 29k+ retweets and landing Benjamin in mainstream press in

La Vanguardia

and

The Telegraph

: "His story has struck a chord in Spain where unemployment among the under-25s soared to a record 56 per cent in August and the number of Spaniards seeking work abroad has more than doubled since the start of the economic crisis five years ago."

[Romania] 1,100 people were bitten by stray dogs in the first quarter of 2013 in the Romanian capital of Bucharest. A law is passed to euthanize stray dogs if no one adopts them after 14 days at a shelter. People from the greater EU region gather in protest by

posting a "Red Card for Romania" image on their profile pictures

.

[USA] As the healthcare exchange opens in the US, celebrities call for citizens to sign up and #getcovered.



A baby elephant tries to keep up with the family. You're welcome.
http://www.youtube.com/watch?v=bz-VVsmejOA