Our Mission
A new culture of civic expression is emerging online. And it often begins with a spark of humor and creativity. Like never before, netizens are amplifying and remixing each other's messages. From talking goats in Uganda to dancing llamas in China; from photo mashups of the king in the Netherlands to logo remixes supporting marriage equality in the United States, netizens are engaging with one another on issues of civic interest. And what's more, they're developing new art forms, tools and avenues to express their views.
[youtube http://www.youtube.com/watch?feature=player_embedded&v=3PDHyUEIqrA]
We believe that these practices – starting with hashtag trends and image memes that sometimes grow into larger movements – are only going to mature and multiply in a variety of global contexts. We wish to document their development, their successes, their failures, and add to the public discourse around online expression and the underlying social issues.
The Civic Beat is a global research group that looks at memes and other viral, creative content on the web in the context of civic engagement.  We do this in three key ways:
Publishing: We provide a multimodal platform to tell the world's stories through internet culture. The Civic Beat Reader and our Tumblr actively share and provide analysis of internet media with the hopes of sparking broader, more informed discussions about global issues.
Outreach and Consulting: We consult for mission-driven organizations on topics of research and engagement in internet culture. At the same time, we seek to educate a broader audience through public talks and workshops.
Archival Work: We seek to provide a comprehensive compendium of global memes and internet phenomena that look at civic issues with an aim toward cultural preservation and analysis.
Here are some examples of what we do:
Above all, we take a cultural approach to viral phenomena. On top of looking at the data, we focus on the stories, social context, and communities around social and political issues that unfold online. We want to bring value and depth to this space.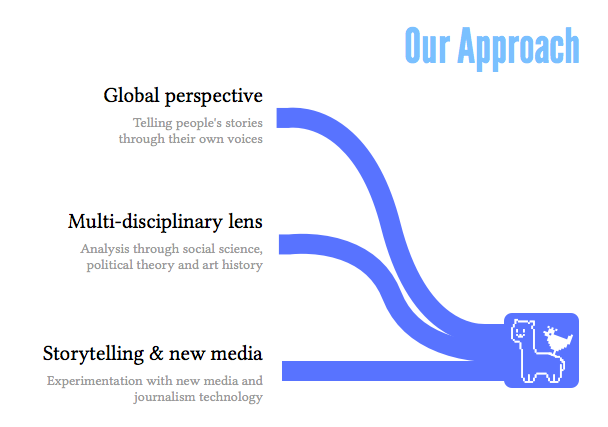 Our Values
We believe that the building blocks of social change often start through creative expression. We think memes and other internet content are meaningful and come out of a larger social and political context. We work hard to maintain respect for diversity, and we're committed to a truly global outlook. We believe in laughing with, not at, and we want to be corrected when we get it wrong.
We do have a bias and a point of view. More often than not, we side with underrepresented people and groups rather than with those who have access to structures of power.  We're proponents of internet freedom and open source, Creative Commons initiatives. We support gay marriage and women's rights but think there's a great deal more to be done to promote social, economic and political equality. Our writers and researchers come from different backgrounds and cultures, but we strive as much as possible to represent all sides equally, so long as those sides are backed by research and not hate or misrepresentation.
But most of all, we believe that humor, joy and creativity are a valid and necessary form of civic expression. The world can be a serious place, but we shouldn't overlook the power of humor and creative expression in igniting a discussion or changing a person's mind or simply helping us get through a difficult situation.
What to Expect While We're in Beta
We believe in testing early and often with real content and a real reader base. As we quietly get our site out the door, we hope to begin active development and promotion in the coming months. In the meme time, you can expect high quality content on this site and an active presence on social media.
During this phase you can expect act coverage of East Asia, East Africa and parts of Western Europe and North America.
How to Get In Touch
General Inquiries: info@thecivicbeat.com
Media Inquiries: media@thecivicbeat.com
If you have an internet phenomenon to share or discuss, we have a number of channels for discussion. Check out our Twitter and Tumblr or send a pitch for a new Reader piece at pitch@thecivicbeat.com.
Our Team
The Civic Beat follows a distributed team model, with members in multiple cities and continents. We use the internetz to stay in touch and work together.
Jason Li, Co-Founder
Jason is a Hong Kong-based designer, illustrator and consultant. He has helped multinationals (IBM, Intel, Skype) and investment funds to tell more compelling stories and to understand their customers better. He was recently creative director of 3D Avatar School where he grew the company to 20+ employees and 100+ customers. Jason holds papers and patents on human computer interaction and his illustration works have appeared on the BBC. He graduated in engineering and education from Brown University.
An Xiao Mina, Co-Founder
Dubbing memes the "street art of the internet", An looks at the growing role of internet culture and humor in addressing social and political issues in regions such as East and Southeast Asia, East Africa and North America. She first began writing about this topic on Hyperallergic, the Brooklyn-based art blogazine, and she has contributed to publications such as The Atlantic, Al Jazeera and Wired. She has spoken at forums like ROFLCon, the Personal Democracy Forum and the Microsoft Social Computing Symposium, and she will be presenting this June at TEDGlobal 2013. She travels a lot and thinks chickens are pretty funny.
lida Shao, Director of Community Relations
Lida Shao is an active community member, political praxistioner, and culture crafter — recently helping to start a successful Community Supported Kitchen in her neighborhood and a productive mini-farm in Queens, NY, while exploring filmmaking, tasty foods, Diaspora, urban cities, and rural landscapes worldwide.
Ben Valentine, Strategist and Contributing Author
Ben Valentine is a culture creator/critic/curator. From the Midwestern United States, Ben sought to become a part of exciting new conversations around culture by immersing himself online and within the small art community in Indiana. After living in New York City for two years where he worked as a writer and artist assistant, Ben moved to the Bay Area seeking a compromise between his passion for social work and art. Ben has curated for the Indianapolis Museum of Contemporary Art; co-curated the Tumblr Art Symposium; written for Hyperallergic, Idiom Mag, and C-Monster; interned with Creative Time; and is currently an Americorps VISTA with United Way of the Bay Area.
Yunqian Wang, Associate Editor
Yunqian Wang is a masters graduate from the University of Pennsylvania, with a focus in intercultural communication. Currently she works as a news editor in New York. She specializes in web development and online communication, with a particular focus on civil society and civic media. Before writing for Global Voice, she was a weekly contributor to TEDtoChina.
Contributors and Guest Reblogs
Our contributors come from all walks of life to tell the best stories of the web. We believe in a collaborative approach to writing, allowing for multiple writers to contribute to an article. Due to the sensitive nature of the subject matter, many writers use pseudonyms. The list below includes individuals who have appeared as guests thanks to generous reblogs; their names are marked with an asterisk*.
David Banks (Troy, NY, USA)
Chicken Cat (Oakland, CA, USA)
Arda İbikoğlu (Istanbul, Turkey)
Sean Kolodji (Los Angeles, USA)
Meowtastic (New York, USA)
Mwesigwa Daniel (Kampala, Uganda)
Dorothy Santos (San Francisco, USA)
Irteza Ubaid (Islamabad, Pakistan)
Want to join our team or contribute writing? Learn more about open volunteer positions or propose your own role.