Tens of thousands of protestors thronged the streets of Hong Kong on Sunday to call for greater transparency in its Executive Council. Protestors were reacting to the recent government refusal to grant a free-to-air TV license to HKTV, an eagerly-awaited newcomer in the industry. Not only did the government not grant them a license, they refused to disclose any specific reasoning behind the decision, only making comments about "minimis[ing] the risk of any possible adverse impact on the free TV market." 1
While they rejected HKTV, the government did, however, grant new free-to-air TV licenses to PCCW and i-Cable, two telecommunications providers with existing paid, cable TV services. 2 To make matters worse, a document was leaked shortly after the announcement. The document, discussed within the same Executive Council in December, states that there should be no ground to reject any of the three TV license applicants.3
Citizens and netizens alike have called the government approach "black box" and monopolist.4
Literal translation: "I want a doll box not black box operation," where "doll box" (公仔箱) is both an early term for TV and an abbreviated pun on "fair system" (公平制度). This phrase was the dominant meme/slogan in Sunday's protest.
In addition, rumors are circulating on talk show radio and on social media5 that HKTV head and billionaire Ricky Wong had not won Beijing's trust and HK Chief Executive CY Leung was instructed to reject his application:
Spurred by the continued lack of transparency and explanation, protesters finally took to the streets on Sunday to demand an explanation and to demand that HKTV be given a license. (It didn't help that Ricky Wong was said to have been invited to apply for a license in 2009.)6 Protest organizers are hoping to replicate last year's success in being able to turn around the proposed National Education (read: patriotic history education) reform.7
A social media success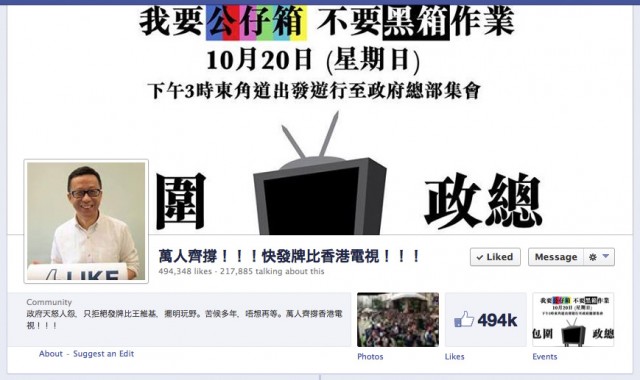 8
By the time the protest started, the Facebook page supporting the HTKV's failed bid had already garnered over 400,000 likes. It currently stands at 491,430 likes at the time of writing. Given that Hong Kong only has a population of 7.16 million people, and that the page was created six days ago, that is no easy feat.
The protest itself was attended by anywhere from 36,000 people (based on conservative police estimates) to 120,000+ people (based on optimistic organizer estimates), with the truth probably somewhere in between. 9 This flurry of activity was mirrored online. The hashtag 香港電視 (translation: HKTV) on Sina Weibo has led to 4050 discussions during the past seven days; hashtag #wewantfreetv has led to 206 tweets10 over the same period; and there are over 2,400 (public) photos tagged #wewantfreetv on Instagram.
Frenetic phone activity
I joined a portion of the protest outside the government headquarters. As with other Hong Kong protests, people were wearing black to show solidarity; there was a diverse array of placards, signs and the occasional effigy; slogans were chanted and notable figures were giving speeches on stage.
But what surprised me this time was that every other second someone near me would raise their mobile phones up in the air to snap a photo. And even when they weren't doing so, they were swiping and poking away on their smartphones:
While hundreds of photos were posted to the popular Facebook group (I counted at least 400), it was not there nor on Sina Weibo that people were posting their photos; it was on Instagram (which garnered over 2400 photos). Who would have thought of Instagram as a forum for public discourse?
11
The power of Instagram selfies
Yet it's not photos of the protest that dominate the #wewantfreetv Instagram feed; selfies were, by far and large, the most popular type of picture. Here's an example of one shot on-site in the middle of the protest:
12
But most of the Instagram selfies were actually shot off-site, from people who, for one reason or another, weren't present. That did not, however, prevent them from sending in their selfie of support before, during and after the event. Here's an example of a typical selfie featuring the black box meme (written on the piece of paper):
13
A selfie using two phones – one to take the picture, one to write the message on:  
14
One Hong Kong native even phoned in home all the way from Brighton (in the UK):
15
And of course, the first Instagram photo on #wewantfreetv also happens to be a selfie. Posted three days before the protest began.  
16
Beyond selfies
Not everything on Instagram was a selfie or a photo of the protest. People still had time to make some interesting art. For example, here's an advanced smartphone creation – a multi-photo collage that creates an air of death around Rilakkuma.  
17
And of course, what would we do without cats?  
18
Sing and dance now
Protestors will continue to camp out this week outside the government headquarters to continue pushing their case. It's too early yet to be able to tell whether organizers will be able to replicate last year's success. In the meantime, they will only get better and better at using the tools at their disposal, whether it be Instagram or… their mobile phone flash functions – below, protestors wave their mobile phone flashes in time with a song of protest: