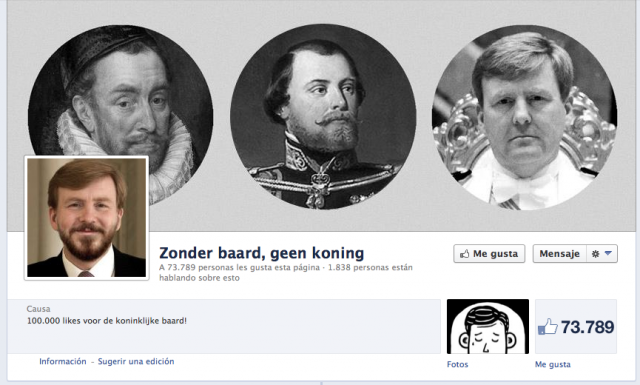 AMSTERDAM — There's a new king in town in nearly a century. Queen Beatrix, who took the throne for 33 years, has formally abdicated. She is now a 75-year-old princess, and Willem-Alexander, her son, is the new King.1 Argentina-born wife Maxima will be the new Queen.
"Now that my oldest son is to take over this fine and responsible job tomorrow, it is my deep wish that the new royal couple will feel themselves supported by your loving trust," the popular monarch said in a nationally televised address.2
And now that the new generation is taking over, orange has taken over Amsterdam in honor of the House of Orange-Nassau, the ruling house. But it's not all pomp and tradition. One of the new Queen's first orders of business will be visiting a conference on same sex marriage, which has long been legal in the country.3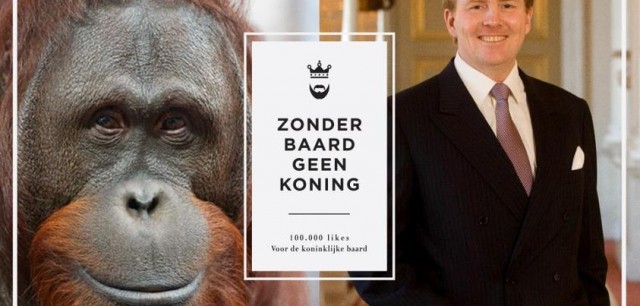 But judging by the Dutch internet, there's only one problem: the new King has no beard. As correspondent Julie Blussé noted on Twitter, "Our soon-to-be-king prince is worrisomely smooth-chinned,the Dutch want him to beard up before coronation." And so a new movement is born: "Zonder baard, geen koning", or "no beard, no king!"
With a Facebook page aiming for 100,000 likes (and at nearly 75,000, it's just falling short), the peoples of the Dutch internetz are calling for beards to be sent in for the new King to don.
(all images via the Facebook group Zonder baard, geen koning)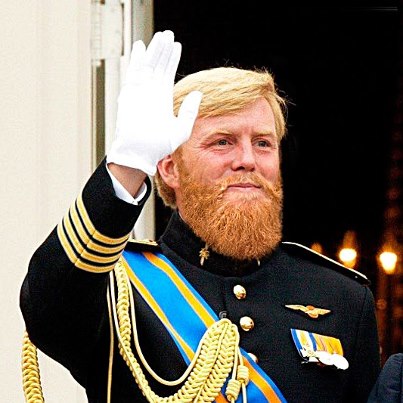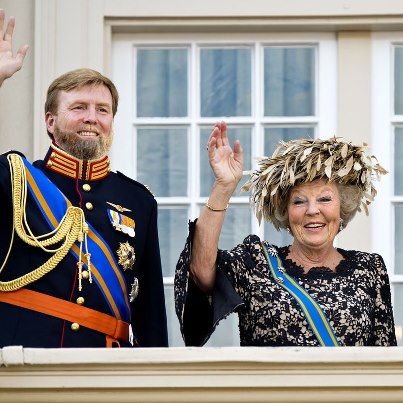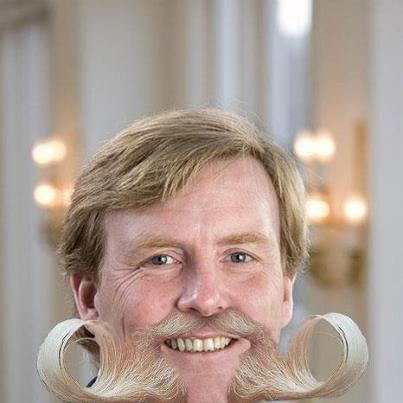 Even popular meme Ryan Gosling has been called in for reinforcements: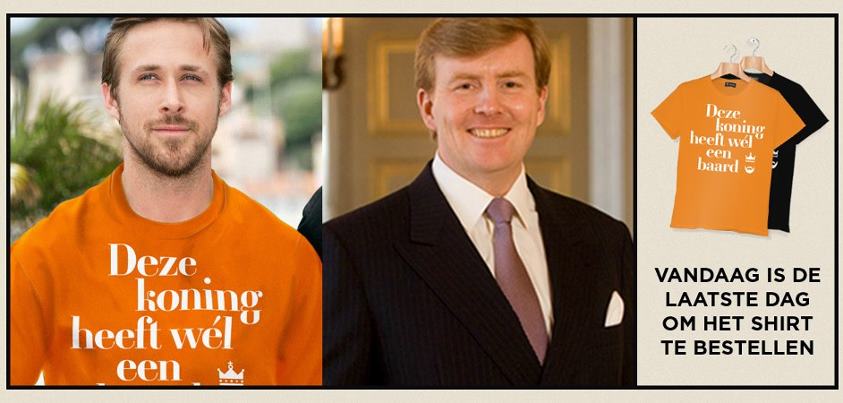 Let's try to bring a little cultural theory in here. Do beards equate male power?  Many powerful and influential men in history have had beards.  Just think Socrates, Zeus, and Gandalf the Grey. Willem-Alexander's beardlessness may reflect the modernity of the new Royal Family.  As British "royal commentator" Richard Fitzwilliams wrote recently in an op-ed for CNN, they're a particularly forward-looking institution:
The Dutch monarchy is also an exemplary example of adaptability as the 1848 constitution that established parliamentary democracy has undergone alterations that have reduced royal power. The crown's role as head of the armed forces and its right to intervene in the formation of coalition governments have recently been removed. The monarch currently signs bills into law, presides at the ceremonial opening of parliament and has weekly audiences with the prime minister. However the distancing of the institution from political power has its uses, since politics is divisive and coalitions are inherently unstable.

The Dutch, who are among the world's most egalitarian nations, have a monarchy that unites a country with a fractious history as shown by the huge support it receives in opinion polls. The institution's friendly image, its involvement with charity at home and abroad and its readiness to allow its powers to be reduced are strengths made all the more potent by the charismatic personalities of the three queens who have been its most recent sovereigns. Their endeavors have been pivotal in enabling their country to play a constructive role on the world stage.
But maybe we don't need to read into it too much. For more wisdom, we can turn to The Ballad of the Beardless King:
[youtube http://www.youtube.com/watch?v=uTzeMj0Lna8]
For everyone knows that a king needs a beard
To rule with bare cheeks, now that is just weird.
Preach.