VATICAN CITY– With the sudden departure of Pope Benedict XVI from the papacy, the Catholic Church found itself without a leader.  Benedict was the first Pope to resign in six centuries, and he cited old age as the reason.  The Economist called it an "ecclesiastical earthquake", while The Times cited the possibility that he resigned due to leaked documents that exposed Church corruption.
A few weeks later, by secret meeting, the College of Cardinals reconvened to select a new leader.  They ultimately decided on the Argentine Jorge Mario Bergoglio, the first Pope from South America and the first Jesuit Pope.  Taking the name Pope Francis I, he's been praised in media as a humble man2 who took the bus to work.  But questions have arisen of his silence against dictatorship during Argentine's Dirty War3 and his lack of support for gay rights 4
Rich in Symbolism
And with the selection, the internet age was reminded of the rich symbolism of the Papacy, from the white smoke to signal a selection, to the Pope's tall white hat, red shoes and staff.  Symbols have always had an importance place in communicating power and influence.
Can we read an implicit critique?  Just fun and games?  It's hard to say, but what we know is that the internet is a space rich in mixable, matchable parts, and what better to remix than symbols? That the symbolism of the Papacy remixed so quickly with celebrities might be read as an acknowledgment not just of his power but his celebrity.
Face Off
Meanwhile, the Pope's face was juxtaposed alongside celebrities, of both the internet and mass media alike  See anyone you recognize?
A Fast Departure
Some memes did offer a clear critique, pointing out Benedict's early retirement.  Questions arose as to the sincerity of his expressed decision, which was, in part, "before God, I have come to the certainty that my strengths, due to an advanced age, are no longer suited to an adequate exercise."12
Queen Elizabeth, one year his senior, might disagree with that sentiment.
Mean Popes?  Benedict wasn't known for being very inclusive.  For more on this, I recommend reading John Cassidy's critique in the New Yorker:
In criticizing the "culture of relativism" in modern societies, and "the anarchic freedom that wrongly passes for true freedom," Benedict made clear that he saw his primary mission not as extending and enlarging the Catholic Church but as purifying it, by which he didn't just mean dealing with the child-abuse scandal. He meant casting off extraneous growths and getting the Church back to what he saw as its proper roots. If this process alienated some current and former members of the faith, so be it. Benedict said numerous times that the Church might well be healthier if it was smaller.
Humility and Diversity
Less ire was thrown at Pope Francis, whose reputation for humility has presented an alternative to the pomp and power of the past.
Francis's reputation as a humble man is highlighted here.  Whereas previous Popes have used a glorious, arms-outstretched pose to greet the flock, he simply waved hello.
And, according to Catholic belief, the Holy Spirit plays a key role in influencing the Cardinals' decision to select him.17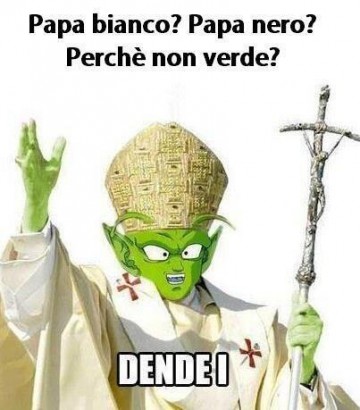 As did the debate around his background.  Italian: "White Pope? Black Pope? Why not a green Pope? Dende I."18  As the first South American Pope, he is already radically different from previous Popes, who hailed from European nations.  For a while, Africans speculated on a black Pope, in the form of Peter Turkson from Ghana.19 Naturally, a green Pope was not under consideration…
En Español
Perhaps some of the best memes came from the Spanish speaking world.  South America has the largest population of practicing Catholics in the world, and since the Argentine Francis speaks Spanish and English.
But here's a Spanish lesson for you.  Papa, with the p capitalized, means Pope in Spanish.  But papa, without the caps, means "potato".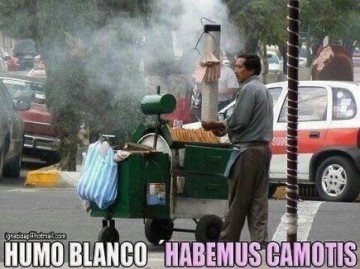 Spanish: "White smoke.  We have sweet potatoes." What were the Cardinals really doing in their secret meeting?21
See more memes and submit your own at The Civic Beat Jam Page.
Editor's Note: While The Civic Beat makes every effort to source images, we inevitably fall short. Did you create any of the images above? Please get in touch so we can cite your name with your creation.