Editor's Note: A portion of this article comes from Daniel Mwesigwa's post with An Xiao over at TechPost Uganda.
NAIROBI– Death. Destruction. Violence. Kenyans are rioting in the streets, looting shops, burning down buildings. Democracy is failing, and only the people are to blame. A man was seen with a machete and fork clearing out…a plate of rice and beef.  Oh wait. Most of Kenya is actually quite peaceful. And despite reports coming out from foreign media, the country's historic elections have come and gone with little incident.
The peace was all the more remarkable compared to the tragic violence that did erupt in the 2007 elections.1 In a thorough article on AllAfrica.com, the Institute for Security Studies attributed the peace to learnings after said violence: "The reforms undertaken within the framework of the 2010 Constitution played a major part. These reforms put in place the institutions and legal frameworks to ensure clean elections."
By a slim margin, Uhuru Kenyatta won 50.03% of the vote.  Hardly a mandate, the results were also questioned due to delays and technological glitches.2
Tweet Like a What?
In addition to the election itself, the big news was that the elections came and went with little violence.  So when foreign journalists started focusing on isolated incidents, Kenyans on Twitter, who often organize around the #KOT hashtag, responded with biting sarcasm:
#TweetLikeAForeignJournalist several foreign journalists reported dead from boredom across the country.3

#TweetLikeAForeignJournalist BREAKING: Masked men with sticks spotted fighting violently at a Fencing club. More to follow.4

#TweetLikeaForeignJournalist: Peace erupts in various parts of Kenya. The government is asking the international community to assist.5

BREAKING: Coverage of election violence marred by a firestorm of peacefulness and calm sweeping Kenya. #tweetlikeaforeignjournalist6
All of this, apparently, in response to one reporter on France 24, whose tweet seemed to have provoke the response:
BREAKING Gun shots fired in #Nairobi #Kenya as huge crowds fall over each other to vote. Dramatic pictures on @France24_en in 15 min.7
The response was so strong that his team issued a response on air justifying their use of the word "dramatic" to describe events.
But It Went On…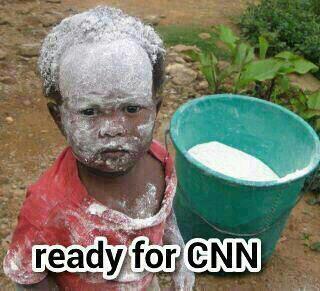 (via)
And then after a CNN video focused on Kenyans arming themselves before the elections.
CNN journalists now threaten to take matters into their own hands and burn tyres if Kenyans continue being peaceful. #SomeoneTellCNN8

with all the peace msgs out there #SomeonetellCNN that Kenya expects better from journalists trying to make a name the wrong way9

Kenyan moon refuses to leave the sky as the sun comes up.Heavy tension in the skies. #TweetLikeaForeignJournalist #SomeoneTellCNN10
Someone Tell Raila….
As the results came in and it became increasingly clear that Kenyatta would be declare victor, #SomeoneTellRaila emerged in response to Raila Odinga's continued efforts to recount the ballots.  He even suspects the results were rigged in favor of Kenyatta.11 The incident woke up old wounds from the 2007 elections, when Odinga was accused of supporting the violence.12 The tweets for this particular metameme were much more mixed:
#SomeoneTellRaila that everytime he looses,it doesn't mean there is rigging.Its not always about you,its about the will of 40million kenyans13

If there is some using this trend #SomeoneTellRaila  then I can't separate you from an illiterate person don't let prejudice cloud ur minds14

and as you participate in this TT #SomeOneTellRaila ask yourself if you are helping that 'Kenya' you are calling bigger than everyone else15

#SomeoneTellRaila Kenya belongs to all of us…even tho UK is the landlord.16
Indeed, many of the tweets during the elections that weren't targeted at foreign journalists were targeted at fellow Kenyans. NTVKenya hosted a post-election interview with social media researcher Mark Kaigwa and activist artist Nanjira Sambuli to discuss tribalism and hate speech memes that rose up on Kenya's online communities. "Is there a way we can express ethnicity positively, collectively," Kaigwa asked, "and see what that's like, because that's a road I don't believe we've gone down before online."  The video is well worth a view:
http://www.youtube.com/watch?v=5188FyyrTkM